In this issue
Upcoming Orientations
2014 Teaching at Vanderbilt Orientation (TAV)
Wednesday, August 13
1:30PM-5:00PM
2014 Teaching Assistant Orientation (TAO)
Thursday, August 14
9:00AM-4:00PM
CFT BLOG
Check out these recent posts to our blog.

'Educationally Purposeful' Thoughts about Race on Campus
Students as Producers: Animating Organic Chemistry
Student as Producer: Poverty in the US: How Education Becomes a Scapegoat
Reflecting On and Documenting Your Teaching Experiences
Make the Most of Your Course Preparation Time This Summer
New CFT Guide on Syllabus Design
Summer Reading Recommendations from the CFT
Follow Us!

Follow the CFT on Facebook
and Twitter!
Get the latest information about events, resources, and news from the CFT on Facebook and Twitter. You can "like" our Facebook page, which means that the latest CFT news will appear in your Facebook news feed. You can also "follow" the CFT on Twitter to read the latest news. (If you're not using Twitter, here's a three-minute video that explains why you might want to.)
Subscribe
Not a member of the CFT News and Events LISTSERV? Subscribe now to receive future newsletters.
Archives
July 2014

Reflections from SoTL Scholar Hasina Mohyuddin
"Scholarly teaching is what every one of us should be engaged in every day that we are in classroom, in our office with students, tutoring, lecturing, conducting discussions, all the roles we play pedagogically. Our work as teachers should meet the highest scholarly standards of groundedness, of openness, of clarity and complexity. But it is only when we step back and reflect systematically on the teaching we have done, in a form that can be publicly reviewed and built upon by our peers, that we have moved from scholarly teaching to the scholarship of teaching."  -Lee Shulman, 2004
SoTL (the scholarship of teaching and learning) is an academic movement in which an instructor investigates student learning with a scholarly question in mind about "what works" or "what is" (what it looks like) in the classroom. The challenge, as posited by Shulman (above), is moving towards SoTL , not just scholarly teaching. SoTL investigates how we foster student learning through our teaching approaches by asking good questions and gathering evidence from students about their learning, our teaching practices, and often discipline-specific challenges.  Then, we share our findings with the greater academic community.  In this way, SoTL is a collection of evidence-based conversations about teaching and learning. Read reflections from Hasina Mohyuddin (Community Research and Action) below:
"I think it was an important paradigm shift for me to think of my teaching practice in terms of opportunities for research and scholarship."

There were so many things I gained from the SoTL Scholars program. First, I think it was an important paradigm shift for me to think of my teaching practice in terms of opportunities for research and scholarship. Traditionally, teaching and research are conceptualized at two separate spheres of being an academic, but being in the SoTL Scholars program helped me to understand the ways that each can enhance the other. I also loved being part of this community of learners. There was a warm and supportive environment and graduate students from a truly diverse set of departments. Being able to get insights and feedback from others in the program helped me to understand and appreciate the multiple perspectives possible in teaching and learning. Finally, being able to conduct an ethnographic project in which I observed classroom discussion over an entire semester allowed me to gain perspectives that would not have been possible from reading articles or personal practice. The act of observing, of conducting research, allowed me to conceptualize and understand the relationship between classroom discussion and student learning an a new and valuable way. It has been a wonderful experience.



The CFT invites applications for the Scholarship of Teaching and Learning (SoTL) Scholars Program for the 2014-15 academic year. Deadline for applications is Monday, August 25th. For more information and to apply, visit the SoTL Scholars Program web page.
Mark your calendar & spread the word about upcoming August orientations.
Teaching at Vanderbilt (TaV), an orientation for junior and senior faculty new to Vanderbilt, will be held from 2 to 5:00 p.m. on Wednesday, August 13th, 2014, in Buttrick Hall. Those interested in attending should RSVP by August 8th by registering online or by calling the Center for Teaching at (615) 322-7290.  CFT staff will be available for teaching consultations throughout the following week, and a series of hands-on workshops addressing a variety of teaching topics will be offered during the week, as well. See below for details.


Teaching Assistant Orientation (TAO) will be held on Thursday, August 14, in Buttrick Hall. TAO is intended for all graduate students who will begin teaching assistant (TA) duties during the 2014-15 school year. New teaching assistants should register for the event byAugust 8th. Information about this event is also available on the CFT website.

Please spread the details about these two events to new faculty and new graduate students in your department.

Teaching Workshops to Help You Prepare for Fall Courses
During the week before classes begin, the CFT will be offering the following workshops for new and returning faculty:
Writing Good Multiple Choice Test Items
Date: Monday, August 18
Time: 11:30am-1:00pm
Location: Center for Teaching
Facilitator: Cynthia Brame, CFT Assistant Director

Constructing exams that target the learning we want for our students can be a challenge. Many of us turn to multiple choice items to create versatile, reliable, and efficient measures of our students' learning. To maximize the benefit of multiple choice items on exams, we have to make sure that test items target our particular learning objectives—and avoid constructions that tip off the "test-wise" or introduce difficulty that is unrelated to the learning goals. In this workshop, we will consider good practice in constructing multiple choice items and will practice revising items to target particular learning goals. Participants are invited to bring their own multiple choice items to workshop.

REGISTER FOR THIS WORKSHOP
Hands-on PowerPoint Clinic
Date: Monday, August 18
Time: 2:00pm-3:30pm
Location: Stevenson Center, Room 2200 See map
Facilitator: Rhett McDaniel, CFT Educational Technologist

We have all experienced the pain of a bad PowerPoint presentation. And even though we promise ourselves never to make the same mistakes, we can still fall prey to similar PowerPoint traps. The good news is that your PowerPoint presentation doesn't have to be boring. In this hands-on session, you will practice working with the slide master, importing and adjusting photos, adding audio and video, and creating appropriate slide transitions and animations. Come learn how to keep your PowerPoint slide shows visually appealing and interesting and make your classroom presentations stand above the crowd!

REGISTER FOR THIS WORKSHOP
Facilitating Difficult Discussions
Date: Tuesday, August 19
Time: 11:30am-1:00pm
Location: Center for Teaching
Facilitator: Joe Bandy, CFT Assistant Director

Leading a discussion that enhances student learning can be a challenge in any context. However, when they involve sensitive subjects or are likely to provoke high levels of anxiety or conflict among students, they can be even more difficult. In this workshop, we will explore general methods for facilitating discussion, and particular strategies for leading and managing these "difficult discussions."

REGISTER FOR THIS WORKSHOP
Teaching Human Beings:
Strategies for Reducing Students' Classroom-Based Anxieties
Date: Tuesday, August 19
Time: 2:00pm-3:30pm
Location: Center for Teaching
Facilitators: Nancy Chick, CFT Assistant Director and David N. Sacks, Psychological & Counseling Center, Associate Director



Students at Vanderbilt experience a variety of stresses—academic, identity-based, interpersonal, and more. We are not therapists, but we do teach whole human beings who bring these anxieties to their coursework and the classroom. In this workshop, participants will learn simple, classroom-appropriate strategies that can minimize these emotions that interfere with student learning. For example, framing high-stakes tasks just a little differently can redirect this stress and free up students' mental capacity to do their best. Participants will select and prepare the strategies most applicable to their courses. Resources for more serious situations will be provided, but the workshop will focus on activities most relevant to learning and to the classroom.

REGISTER FOR THIS WORKSHOP
From the Stacks...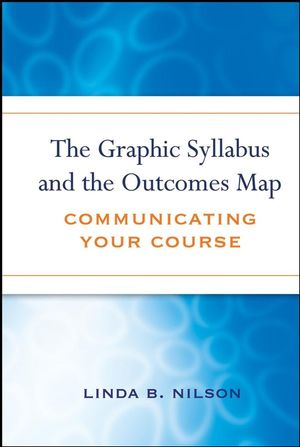 The Graphic Syllabus and the Outcomes Map: Communicating Your Cour
by Linda Nilson, former director of the Center for Teaching


This book shows college instructors how to communicate their course organization to students in a graphic syllabus—a one-page diagram, flowchart, or concept map of the topical organization—and an outcomes map—a one-page flowchart of the sequence of student learning objectives and outcomes from the foundational through the mediating to the ultimate. It also documents the positive impact that graphics have on student learning and cautions readers about common errors in designing graphic syllabi.
Available in the Center for Teaching library.